Posted at 13:31h
in
Cervical Health
,
Endometriosis
,
Fertility
,
Hormone Balance
,
Menopause
,
Menstrual Cycles
,
Moods
,
Nutrition
,
PCOS
,
Preconception
,
Pregnancy
,
Supplements
Kate Naumes ND is excited to announce that women across the country can now access her evidence-based, naturopathic approach to common women's reproductive health needs. Based on years of working with women in their reproductive years, these curated women's health packages include a 60-day supplement regimen, and an audio and PDF research-based nutritional guide—tailored to every condition and ready to go.
When women take control of their health, they take control of their lives. That's why we're excited to empower more women with an evidence-based approach to their reproductive health, across the spectrum of needs—from fertility and pregnancy to PCOS and cervical health.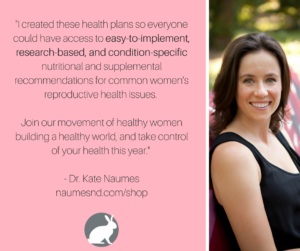 You can easily access the custom women's health packages here.
We also now offer a variety of recommended books, lifestyle items, and supplements on our shop here.
Spread the word, spread good health, and here's to healthy women being the hub of a healthy world in 2018 (and beyond!).