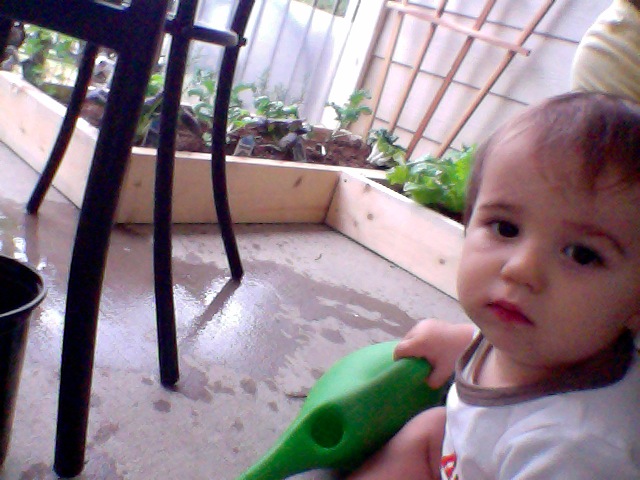 As of this week, I now have an organic vegetable and herb garden on my 6×4 patio. It's not hard to make happen and there are a lot of great reasons to do so:
1) Those thirsty plants provide a daily reminder to get outside, move around, smell fresh air and put my hands in the dirt.
2) The food is as fresh as it gets. Do we want a salad tonight? Lots of different lettuces, kale, beets, and more to choose from.
3) It's also as local as it gets, we open the door and just take exactly what we need – nothing goes to waste.
4) The plant diversity is improving our ecosystem – the flowers accompanying the plants attract pollinators (bees).
5) A little playground for my son to spend time, learn about where his food comes from and get excited about vegetables. But it goes further than that. "Child advocacy expert Richard Louv directly links the lack of nature in the lives of today's wired generation—he calls it nature-deficit—to some of the most disturbing childhood trends, such as the rises in obesity, attention disorders, and depression." Louv brings together "a new and growing body of research indicating that direct exposure to nature is essential for healthy childhood development and for the physical and emotional health of children and adults." And he's got specific solutions, for example: "Invite native flora and fauna into your life. Maintain a birdbath. Replace part of your lawn with native plants. Build a bat house. For backyard suggestions, plus links to information about attracting wildlife to apartments and townhouses, see the National Audubon Society's "Invitation to a Healthy Yard," at www.audubonathome.org/yard".